Ah, the Maldives! A tropical paradise, top tourist destination. Sandy beaches, tropical climate, coral reefs, calm lagoons.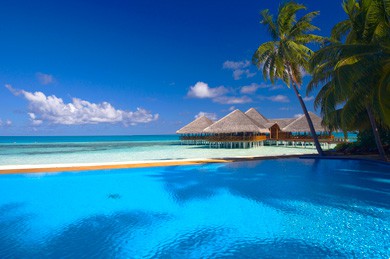 Oh, and it's also
an Islamic Hell-Hole
. It was reported today that the Maldivian government has thrown one of our Catholic brothers in prison for having a Bible and a Rosary in his home, both of which are banned from the islands. His name is Shijo Kokkattu, an Indian Catholic from Kerala. He has been teaching at a school there for the last two years. While he was transferring files from his flash-drive onto the school computer, he also copied some Marian songs and also a picture of the Blessed Mother. His fellow teachers reported him, his home was raided, and he was thrown in jail. You see, back in 2008, the Maldives passed a constitutional amendment that denies non-Muslims freedom of worship, and making it impossible for non-Muslims to become citizens. In fact simply kneeling, folding one's hands or using religious symbols like crosses, candles, pictures, or statues ( I assume the pictures and statues are icons) can get you arrested and thrown in jail.
Oh, and the Maldives has a seat on the U.N. Human Rights Council. One more reason the UN will always be just a huge joke.
Here's hopping Global Warming speeds up and the oceans rise a bit.